This is a portrait of (from left) Frank, Ray and Arthur McClain, taken about 1890: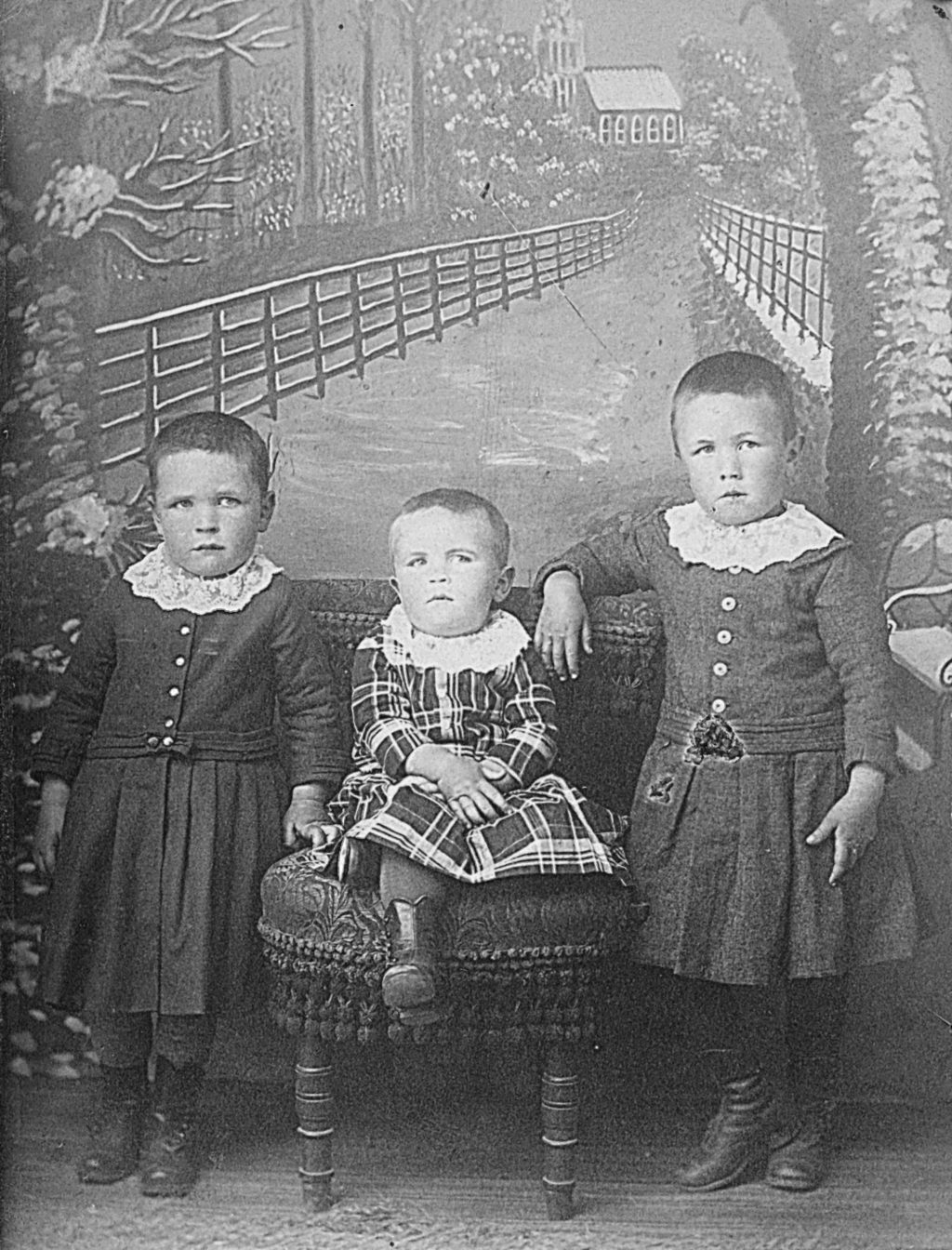 These were sons of Nathan and Mary McClain, as you may know. This photo was most likely taken in or near Paxton, Nebraska. That is where Nathan was farming at the time, and where Ray and Frank were born. The photo is mounted on a cabinet card, but there is no studio imprint or stamp on the front or back of the card. That's the reason for the uncertainty over where it was taken.
These were the seventh, eighth and ninth children in the family. I don't have a guess as to what prompted the portrait of just these three. The boys were about 18 months apart, so if this was taken in October 1890 (just for illustration), Ray would have been two years, nine months old, Frank would have been four and a half, and Arthur would have turned six that month.
About ten years after this photo was taken, these boys would move west with their family, first to LaGrande, Oregon for a season, then to the Willamette Valley.
Mom tells it this way:
I don't have any exciting story about relatives who were covered wagon heroes. My grandparents were smart. They waited until the railroad was built and came by train. My father's family, though, did come by immigrant train, which consisted of freight cars on which were furniture, machinery, animals and families too, I guess. They first came to LaGrande, Oregon in 1901. They couldn't find land there they wanted to buy, so after working in the sugar beet harvest, they loaded up the immigrant car again. I think of my grandmother with those five teenage boys to feed and care for, and all that traveling and looking for a farm to buy. I remember her as a sweet, patient lady with a great sense of humor. They came to the Willamette Valley on the advice of cousins who had lived near them in Nebraska and [now] lived here [in the Willamette Valley]. After renting a farm for a while, they bought a farm in North Albany on the side of Gibson Hill. They had grapes and fruit trees.
As noted in yesterday's post, the farm they rented "for a while" (it must have been about eight years) was in the vicinity of Tallman.
I think the "five teenage boys" Mom had in mind were Arthur, Frank, Ray, Ellery and Clyde. For the sake of accuracy (though it doesn't change Mom's point) Ellery was 12 and Clyde was 10 in 1901, so technically not teenagers. Five boys, nevertheless, including the three above, who were teenagers. Great-grandma Mary must have been a saint.
It would be interesting to know the identity of the "cousins" who advised Nathan and Mary to come to the Willamette Valley. (They have my undying gratitude!) If "cousin" means "first cousin of Nathan or Mary," that would be grandchildren of their grandparents. I did scan through those grandchildren, as many as I had information on. I wasn't able to find any that ended up in the Willamette Valley, except siblings of Nathan or Mary. But my information is incomplete. At the same time, the "cousins" may have been more distant, or may even have been just friends from Nebraska, not relatives.
Whoever they were, Nathan and Mary followed their advice, came to the Willamette Valley, and remained for the rest of their lives. Eight of their twelve children—including some older ones who did not come west with them originally—ended up in the Valley. Nine, if you count Bill, who did not live here but was buried here.
Concerning the three in today's photo… Sadly, Frank didn't live long. He passed away shortly after his 23rd birthday due to complications from diabetes. Arthur, although he lived much longer, also died unnaturally. He was killed in a fall in 1947 (age 62) while finalizing preparations to move from the Tallman farm into Lebanon. Ray fought in World War I, but returned to the Pacific Northwest (although not necessarily the Willamette Valley exclusively) and lived to be 77. He is buried near Corvallis.